2015
Build RTMP link for Withings Smartbaby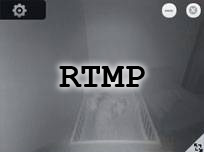 - Resume:
Script to produce a valid RTMP url for a Withings Smartbaby camera.
I just want to have an app on my PC to check out my child health, so I make quickly this script to get the RTMP url and validate the principle so I could create my own c++ app to watch over him easily. (Check C++/OpenGL Section for TRSmartBabyEasyMonitor).
- How to use it:
To easily launch the nodejs script, you can make a dos batch file (sample under), in the same directory than the script (downloadable on top)
You just need to replace "e" by your own e-mail and "p" by your own password
It will build a rtpm url to connect to the babyphone, this url is temporary, you will need to rebuild it often (not for each connection but almost, better to make it for each session)


REM
-----------> Need to set the path for nodejs to find node_modules
SET
NODEJS=
%CD%
\..\nodeJS
SET
NODE_PATH=
%NODEJS%
\node_modules\
CALL
"
%NODEJS%
\node.exe
"
--harmony
"
.\tr.get_rtmp_withings_smartbaby.js
"
%*
e p
XXXXXXXXXXXXXXXXXXXXXXXXXXXXXXXXXXXXXXXXXXXXXXXXXX