2003

P2P XR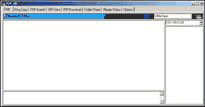 - Resume:
File transfer + Chat + GameSpy
- Download:

[ portable ]
- License:
Ti-R License (freeware)

Software for LAN users.
- Infos:
• It enable users to chat within channels.
• It enable to check what game each player are playing.
• It enable users to transfert very quickly big files to multiple users through a technic I call 'Ring Copy'.
- Improvements:
• Fix simultaneous file transfert.
• Add better support for multiple card networks.
- Bugs:
• If more than 1 ring copy are launch at the same time, artefacts will occur.